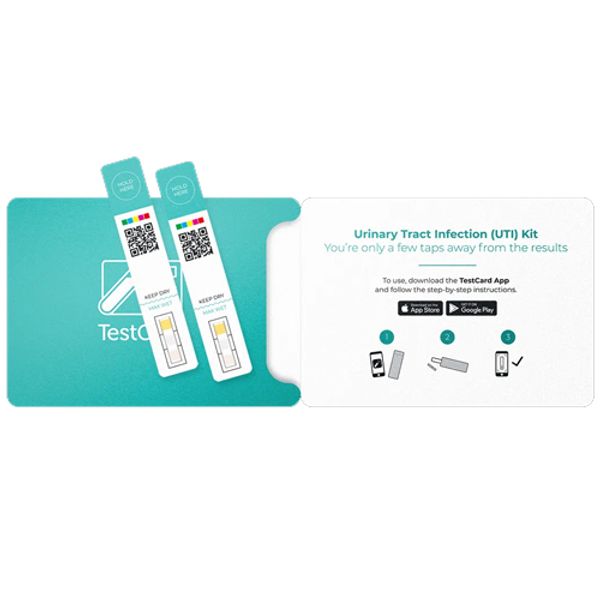 TestCard Urinary Tract Infection Kit Pack of 2
This product is typically dispatched within 3-5 working days from date of order and is not suitable for our next day delivery service.
Description

TestCard uses an app based urine testing kit to provide accurate test results for a UTI. Available for Apple and Android we harness the power of your smartphone camera to give you the confidence that our UTI Test Kit results are reliable.

When you take a TestCard urine infection test, the results screen indicates a clear yes or no and tells you if you need to seek medical advice. There's no medical jargon or complicated numbers. The results are completely private and secure, you're the only person who can decide if you want to share them with your doctor. Your doctor can then use the detailed numbers and analysis that sits behind the app to decide how best to help you.

Your UTI Test Kit strip acts like a dipstick. Dip into your urine sample briefly then use the smartphone app to scan your results. The app provides detailed urinalysis, with results that will be recognised by your health professional.
Directions

Before you get started

Have your TestCard test kit ready. You'll also need a clean container to collect your sample. Tear open the pouch and hold the test strip at the top and we'll use your camera to scan the QR code.

This tells the app which type of test you're taking.

Take the Test

Dip the testing strip into your sample briefly. Ensure the strip is wet above all of the squares but below the 'max wet' line.

Scan the Strip

While holding the testing strip at the top, scan using the app. Align the strip to the blue guides on the screen.

Your result is ready!

And you can choose to share your results with a health professional if you want to. Speeding up your route to treatment.