Shopping for Christmas Presents During a Pandemic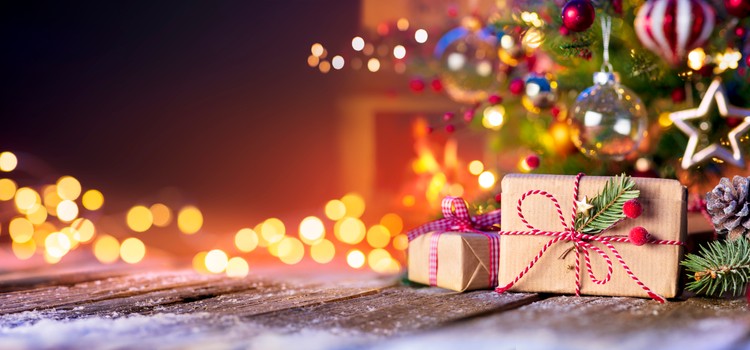 Published: 26th November, 2020 in: News
Christmas is fast approaching and many of us across the country are looking forward to something to celebrate following nearly a year of the covid-19 pandemic. As restrictions are likely to continue into the new year, we wanted to let you know about different ways you can buy and deliver your loved ones presents while also following social distancing rules.
Buying Christmas Presents Online
Online shopping is one of the most convenient and popular ways to buy gifts online. We don't need to introduce you to the concept of online shopping considering how normal it is for us to buy online now-a-days. With the current national lockdown, all shops are now closed unless they are considered essential such as food, pet, and medicine-related shops. As a result, more and more people are flooding online shops to find their Christmas decorations, trees, and gifts. To take advantage of Christmas sales and get the items you want before they go out of stock, it's more important now than ever to buy your loved ones their gifts quickly.
Christmas Gift Ideas
Choosing the right gift is not always easy especially for those friends and family which you may not have been able to see in a while with the recent social distancing requirements. Classic gifts you could go for include delicious chocolates, sweets, fragrances, aftershave, jewellery, makeup and flowers! But our article breaks down classics and new present ideas for you to choose from.
Gifts for Her
Moogoo is a leading natural skin care brands from Australia that formulate and offer gentle products to use. MooGoo has developed a range of products for babies, children and adults with very sensitive skin, as they are free from parabens, silicone, SLS, petroleum, and phenoxyethanol. Treat yourself or loved one to a MooGoo Merry MooGoo Christmas Tree Ornament Set to decorate your Christmas tree this year, the christmas tree decoration comes with a MooGoo Shea Sorbet and MooGoo Vanilla Dream Lip Balm 5g to nourish even the most delicate types of skin found on the lips. The MooGoo Soothing MSM Moisturiser uses nourishing ingredients including MSM which is an organic sulphur to create a smooth and moisturising skin care cream that leaves the skin smooth and soft to touch. The formula also uses sweet almond oil and raw coconut oil as these are known as some of the best oils to help calm and nourish dry or irritable skin. Surprise your loved one this Christmas with a product which will offer them relief and healthy looking skin for months to come.
Gift sets are always an easy way to make your family and friends smile at Christmas and MooGoo has your back! MooGoo Super Soaps Cleansing Bar Trio uses a unique formula that makes use of fresh milk in it's bar's formula alongside other ingredients including olive oil, coconut oil, cocoa butter and milk fats for the combined effect of moisturising the skin. The milk itself is processed, which prevents it from turning off as the fats and oils are saponified. Saponification is a process that involves the conversion of fat, oil, or lipid, into soap and other products through a chemical reaction. By completing this process, Moogoo takes advantage of the beneficial properties of fresh milk in moisturising the skin by adding the ingredient into a range of their skincare products. This set of three natural, luxury butter soaps are a perfect little gift for someone who you want to spoil! The three butter soaps include:
Fresh Goat's Milk, Olive Oil & Cocoa Butter Soap 130g
Finely Ground Oatmeal, Buttermilk & Cocoa Butter Soap 130g
Fresh Buttermilk, Olive Oil & Cocoa Butter Soap 130g
Beauty and Makeup products are also always a great option to spoil your sister, mother, girlfriend, or wife. Let's go through some popular products which you could gift her this Christmas:
Bronzing and Self-Tanning Products - L'Oreal, Moogoo, Garnier, and Dove offer a range of self-tanning products to give skin that sun-kissed glow during a time where travel and sunny holidays are not accessible due to the covid-19 pandemic. They also can be used frequently to give the skin that tanned look, no matter the cold winter weather, in a way which is not damaging to the skin.
Make-Up and Gift Sets - Makeup is a multi-billion pound industry across the globe and is one of the most sought after Christmas gifts every year. If you want to treat her to a makeup set or product, here are some helpful tips to find out what she will like:

Look at what products she uses on a daily basis,
Find the brand of her current products and choose a product which is a similar style but that is still new, for example if she often uses bronze eyeshadows - look for a nude eyeshadow palette to gift her,
Look at makeup gift sets from the brand's she already uses, this will give her the chance to try new products from her favourite brands and find one to add to her usual makeup collection!
False Nails & Eye Lashes - A set of luminous, soft eyelashes and decorative false nails make the perfect gift for her! Eylure lashes are popular for the voluminous look they add to the eyes, extending length while also being easy to apply. Make sure to check if she uses these products as some may opt for a more natural look, meaning nail polish and gels along with a new mascara may make it a more suitable gift.
Gifts for Him
What comes to mind when you think of gifts for men? That's right, the classic Gillette and Lynx combo are still a favourite gift idea for a Christmas present. Though you cannot necessarily go wrong with these, there are ways to add a personal touch to the gift to make it more special to your loved one. Let's break down some conventional gift ideas along with some more personable ones below.
Gillette have been one of the world's favourite shaving and hygiene brands for years upon years, and they have a range of hygiene products for men, including:
Christmas Gifts for Pets
Cats, dogs, rabbits, and all animals become a member of our families making it natural for you to want to spoil them while the rest of us are celebrating. Pet treats and Christmas gifts for pets are a nice way to make your little friend feel part of the festive season this year.
Christmas Express Delivery
Many online retailers have been flooded with orders making it difficult for you to get a good delivery slot or fast delivery. That is why it is better, now more than ever, to explore premium delivery and next day delivery options to get your presents on time. There is nothing more embarrassing on Christmas day as having to tell your loved one that their present has not arrived yet, well, maybe burning the turkey just about beats this! Weldricks Pharmacy offers free standard delivery on UK orders above £35 so take advantage of this deal for Christmas!
Christmas Shopping Online
Browse through our range of Christmas gifts online, gifts for him, and gifts for her to find the right presents for your family, friends and pets today. Don't forget that we offer free standard delivery on all orders in the UK over £35!
Please note that the content of this article was relevant and accurate at the time of publication.