Valentine's Day Makeup and Beauty Tips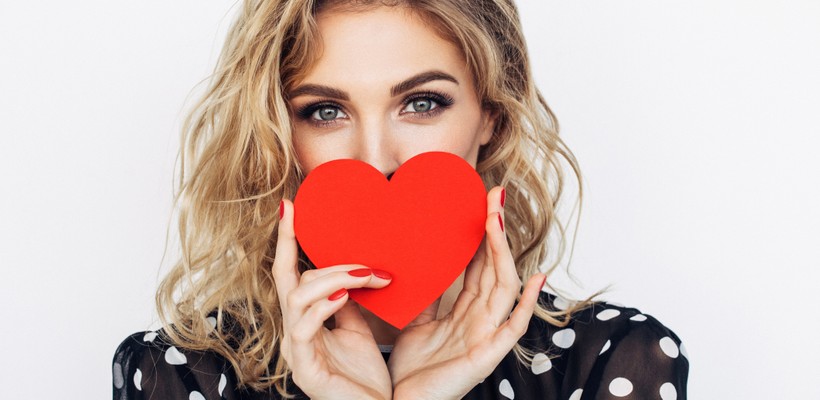 Published: 11th February, 2020 in: News
With Valentine's Day right around the corner, you might be on the hunt for some beauty inspiration. Whether you have a hot date lined up, a night in with your partner or a night out with the girls, you want to look your best. Whatever your style, romantic, sexy or glamorous, we have a range of Valentine's day makeup and beauty products to create your perfect Valentine's look this February 14th.
Start with Skincare
The key to a flawless makeup finish is a great base therefore keeping your skin healthy is essential. Every good skincare routine should include exfoliation, cleansing and moisturising as a minimum. Exfoliation should only be carried out once or twice a week, unless the product instructions state otherwise, to ensure the skin does not become damaged. Exfoliation helps to remove dirt and impurities from your pores, whilst removing the dead skin cells that can make your skin look dull. After exfoliating, you will be left with glowing skin, improved skin texture and a reduction in pore size. Weldricks stock a range of facial scrubs and exfoliators such as the Simple Kind to Skin Smoothing Facial Scrub and the Clean & Clear Exfoliating Daily Wash.
Once you have removed any dead skin or impurities from your face, you should cleanse the skin to ensure there is no residual dirt leftover. Skin should be thoroughly cleansed at least twice a day, usually in the morning and once before bed. There are a wide range of facial cleansers available, however it is important to choose the right product for your skin type. The Simple Kind To Skin Refreshing Facial Wash Gel is a great option for sensitive skin as it does not contain perfumes or any unnecessary ingredients that could irritate your skin. The gel contains a range of active ingredients and vitamins designed to cleanse and revitalise skin. Simple also offer the Simple Kind To Skin Moisturising Facial Wash which has been specially formulated to soothe and moisturise the skin, whilst removing imperfections and dirt. Dermatologically tested and approved, soap and perfume free, the Kind to Skin Moisturising Facial Wash is an ideal choice for those with dry or sensitive skin. For blemish-prone skin, you may want to try a formula such as the Clearasil Ultra Rapid Action Gel Wash. Formulated to deep cleanse pores and fight the bacteria which causes spots, the Ultra Rapid Action Gel Wash helps to control oil and prevent future breakouts.
After cleansing and before moisturising you may also choose to use a toner. Toners are fast-penetrating liquids that help to remove any leftover dirt and deliver moisture to the skin.
The final step in a simple skincare routine is moisturising. This is key when creating a Valentine's day makeup look as it helps with flawless makeup application, preventing dullness, dryness or a build-up of product, as well as helping makeup to stay on longer. We stock a wide variety of moisturisers for different skin types. The Simple Kind To Skin Replenishing Rich Moisturiser is generally appropriate for most skin types, including sensitive skin as it contains Vitamin E for nourishment and does not contain any harmful ingredients or perfumes that can have a drying or damaging effect on skin. One of the main culprits of skin ageing or damage is the sun. MooGoo's Natural Anti-ageing Face Cream with SPF 15 helps to moisturise the skin, combat ageing and protects your face from sun damage. If you want to get a head start on your makeup for Valentine's day, a BB cream might be right up your street. The Olay Total Effects Touch of Foundation BB Cream combines a small amount of foundation with moisturiser in order to help improve the appearance of skin and mask minor blemishes and imperfections.
Valentine's Day Makeup
Now that your skin has been thoroughly prepped, it's time to create the perfect Valentine's makeup look. The secret to every great beauty look is flawless skin. Our range of foundations from Covermark help to improve the appearance of skin and camouflage blemishes. Substantially more pigmented than classic liquid foundations, Covermark was the first and only skin camouflage to be granted a US patent back in 1932. 100% water and sweat-proof, with 24-hour staying power, this foundation keeps your skin looking great even if you do stay out dancing all night. The perfect choice for a Galentine's night out! It also provides SPF 30 with natural filters and is therefore highly recommended for sensitive skin.
Now it's time to add a bit of depth to the skin. Application of foundation can leave the skin looking flat when applied all over. A product such as DustyGirl's Pink Ladies Natural Mineral Blush can help to bring back some colour to the skin, as well as giving you that romantic flushed look perfect for Valentine's day! Finish with a neutral eyeshadow such as the DustyGirl's Natural Mineral Eyeshadow in Paper Bark for a natural Valentine's Day makeup look or add a sweep of red lipstick for a more sexy makeup look. Make sure you prep your lips with a lip balm beforehand to ensure perfect lipstick application every time.
Now we all know eyebrows are super important to any makeup look these days. To get the perfect brows in time for Valentine's Day, why not try the Eylure Pro Brow Dybrow Dye Kit in Dark Brown? With our range of affordable makeup products, you can look and feel your best this Valentine's Day!
The Devil is in the Details: Self Tanning & Lashes
Want that added oomph this Valentine's Day? Why not add some extras into your usual beauty routine to really elevate your Valentine's Day makeup look this year?
Let's focus on the skin again for a second. We all love that post-holiday tan and glow we get; keep it going all year round. With our collection of bronzing and self-tanning products you can! For a full glam look, try the St Moriz Instant Self-tanning Mousse, offering a deep, instant bronze with flawless results. After a more natural glow? The Dove DermaSpa Summer Revived Tanning Lotion or the MooGoo Natural Gradual Tanning Cream are the perfect choices. Combining moisturising properties with a gradual tan build-up, your skin will be left feeling soft, moisturised and glowing.
For full glam, add false lashes to your Valentine's Day makeup. Go all out, flutter your lashes and amp up the flirting with the Exaggerate No. 145 Lashes from Eyelure. Finish off your Valentine's beauty routine with the addition of some false nails. Ensure your hands look their very best by browsing our range of hand and nail care products. We offer products to keep your hands moisturised and your nails healthy. After all, Valentine's Day is one of the most popular days for proposals…you'll want your hands to look their best. Think of the engagement ring photos!
So whatever you're doing this Valentine's Day, look and feel your best with our range of beauty products designed to help you create your perfect Valentine's Day makeup look.
Happy Valentine's!