Spring Bank Holiday and Platinum Jubilee Online Customer Service Opening Times:
Thursday 2nd June: 9am - 12noon
Friday 3rd June: Closed
What's so Good about Riemann P20 Products?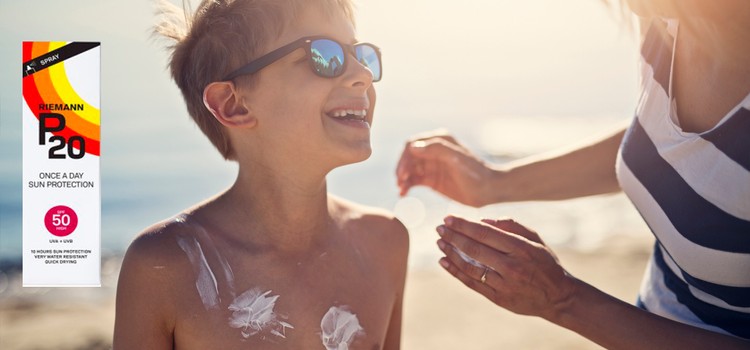 Published: 1st August, 2016 in: Sun Care
Riemann P20 sunscreen is a popular choice for many holidaymakers who need a high level of sun protection. With this in mind, let's take a look at some of the reasons why Riemann P20 products are a worthy investment.
10 Hours of Sun Protection
One of the main ways in which Riemann P20 sets itself apart from other sun care brands is its level of sun protection. With Riemann P20, you only have to apply the formula once a day which offers holidaymakers a new level of convenience. This is especially good news for those who like to stay active in the sun for long periods of time. The SPF50 provides maximum protection without compromising on your tan.
Quick Drying Formula
No one wants to spend valuable sunbathing time waiting for their sun lotion to soak in. Riemann once again makes applying sun cream easy by creating a quick drying formula. Riemann P20 sun creams allow you to enjoy more time in the sun and less time waiting for the lotion to dry. What's more, the formula is lightweight and won't leave a greasy film over your skin like some sun lotions can. One advantage to using sun creams from Riemann P20 is that you only need a small amount to achieve full coverage making it great value for money.
Superior Water Resistant
Applying another layer of sun cream every time you take a dip can become tiring but thanks to Riemann P20 products like their sun filter spray you can now take advantage of 10 hours of uninterrupted sun protection whether you are on land or at sea. This is great news for surfers and swimmers alike. Riemann P20 sun creams boast a high level of water resistance to provide you with sufficient sun protection even after you have been in the water.
UVA and UVB Protection
Riemann P20 sunscreen goes the extra mile, protecting skin from both UVA and UVB rays. When you use this brand you have complete peace of mind that you are getting the protection you need for you and your family. Just one application can protect your skin from harmful UVA and UVB rays for ten hours and the range includes Riemann SPF 15, Riemann SPF 30 and Riemann SPF 50.

If you look for excellent sun protection, superior water resistance, look no further than Riemann P20 products.