Spring Bank Holiday and Platinum Jubilee Online Customer Service Opening Times:
Thursday 2nd June: 9am - 12noon
Friday 3rd June: Closed
The Ultimate Dry Lip Therapy Guide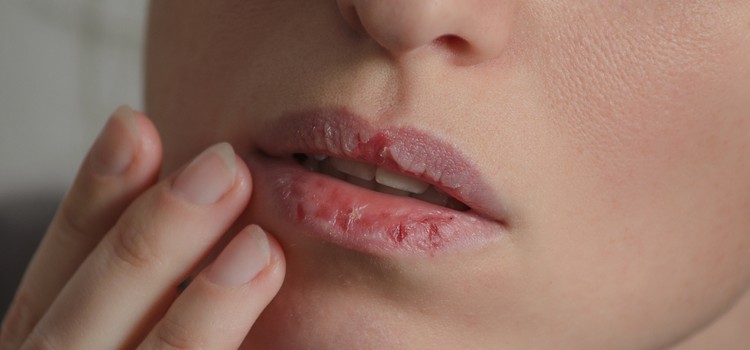 Published: 15th January, 2020 in: Health
During the winter months skin can become dry chapped and irritated. The skin on your lips is no different. One way to combat this is through regular exfoliation. Exfoliating your lips helps to prevent chapped, flaky, and sore lips, especially during these winter months when the cold weather removes the natural moisture from your skin. Lip exfoliation can help to reduce the possibility of dry and irritated lips, not to mention you'll have a brighter smile at the end of it!
The Difference Between Face and Lip Skin
Another major difference between the skin on our lips and the rest of our skin is that our lip skin does not contain any sweat glands or hair follicles. Hair follicles and sweat glands secrete oil and moisture to the skin. This can therefore mean that the lips don't get as much moisture as the rest of our skin and will dry out much more quickly. Using a moisturising lip balm, such as Vaseline lip therapy, on a daily basis can help to replenish this moisture and keep lips looking beautiful.
The skin on your face and the skin on your lips have a very different texture. This is because they have very different purposes. The upper layer of skin on your lips is much thinner and more delicate than the rest of your skin. It has just 3-4 layers of skin, rather than 15-16 layers, as on the rest of your face. They also have a pink colour to them as lip skin does not contain as many melanin cells. This makes the blood vessels behind the skin become much more visible, thus giving the pink colour.
What is Lip Therapy?
Lip care and therapy product ranges have been formulated to protect and hydrate the sensitive skin on your lips. Their innovative product formulation can protect and relieve dry lips to help rejuvenate them, giving you healthy, moisturised and luscious lips. Lip therapy protects come in a range of delicate scents adding a nice fragrance to your lips. They instantly soften and soothe dry lips, leaving behind a sheer pink tint and a rosy glow.

Why are Lips Sensitive?
The skin on your lips is extremely sensitive. This is due to the thinness of the skin and the amount of nerve endings present. The lips contain over 1 million nerve endings, making them more prone to sun damage than other skin on our face. Applying a lip balm with SPF before you head outside is one of the tips dermatologists offer for you to keep your lips healthy.
Top 3 Basic Lip Care Tips
Exfoliate your lips – Just as your face benefits from exfoliation, your lips will also benefit. This process should be carried out on a regular basis to make sure that they are clean and healthy. You can find products for lip exfoliation or even create your own mixture at home. Lip exfoliants should be gently rubbed onto your lips and washed with warm water to leave your lips looking smooth and let you show off your natural lip colour.
Apply lip balm – Putting on lip balm overnight or before a lipstick will help to protect the sensitive lip skin from drying out too much, especially in the winter months. Apply and reapply a good quality lip balm to get moisturising effects on your lips.
Do not use harsh lipsticks – Matt lipsticks are popular but are known for drying out your lips. Make sure not to use lipsticks with harsh ingredients, opting for more naturally-sourced ingredients. If you do use matte lipsticks, make sure you take extra care of your lips by using lip balm regularly.
What Lip Care Products Can I Use?
Vaseline Lip Therapy Original
These tins have quickly become one of the most popular beauty products, with their original retro look and moisturising abilities, helping to keep lips healthy and protected from the elements. Original has long been a firm favourite in handbags and pockets. Our lips have an amazing ability to experience heightened sensations, allowing us to feel the slightest of touch and sense the environment around us. Unlike body skin however, the skin on our lips does not naturally create its own moisture layer. This leaves it susceptible to dryness and chapping, which can be relieved with Vaseline Lip Therapy.
These products are also unique for their ability to protect sensitive lip skin from the sun making them an essential travel accessory for your next holiday! They have been developed to protect lips from UVA and UVB rays with SPF 15 and have been dermatologically tested.
Vaseline Lip Therapy Rosy - This smooth and gentle lip balm has a beautifully refreshing rose fragrance, which also replenishes that naturally lush pink colour to your lips.
Vaseline Lip Therapy Cocoa Butter - Want to protect your lips from dryness and irritation with a tasty lip butter? This cocoa butter lip therapy from Vaseline is perfect for keeping your lips healthy as the formula contains Vitamin E and antioxidants along with a deliciously seductive cocoa scent.
MooGoo Natural Shea Sorbet
A perfect option for those with an ethical mind. MooGoo Natural Shea Sorbet has a dairy-free formula, offering a deep moisturising balm for both dry and very dry skin on the lips. It's innovative formula uses essential natural oils, including Shea Butter, Coconut Oil and Natural Vitamin E, making it a great healing product for your lips, giving it back a healthy texture and silky softness.
Shea Butter is an intense moisturising ingredient which can be difficult to apply to the skin directly. This is why MooGoo have added the butter into its product range giving you its essential benefits hassle free! Mixed in with other hydrating and healing ingredients, this sorbet helps make it easier to rub in, delivering moisture and nourishment where it is most needed.
Nivea Lip Care Soothe & Protect
Nivea Lip Care Soothe and Protect is another great option to protect and rejuvenate your dry lips. The product uses a formula bursting with naturally derived ingredients including 100% organic Jojoba Oil. Jojoba Oil is found in the seeds of Simmondsia chinensis plant and boasts moisturising, antibacterial, and oil controlling properties. This makes it the perfect ingredient for skin and hair care products. Coupled with other essential moisturising ingredients, Nivea Lip Care offers long lasting moisture for dry and sensitive lips, leaving them soft and healthy. The product is also complemented with enriching Vitamin E and SPF 15 to protect your sensitive and delicate lips from the harshness of the sun.
Bonjela Cool Mint Gel
If you have developed a cold sore, this can be uncomfortable and cause skin irritation. As the skin on your lips is already very sensitive compared to the rest of your body, it is important to use the right products to help relieve symptoms of a cold sore. Bonjela Cool Mint Gel has been formulated to offer pain relief, reduce inflammation and help fight the infection in cold sores. The gel contains an antiseptic to help heal irritated areas and prevent further infection. It's cool mint flavour makes it an ideal product for use on your lips.
Note: Do not give Bonjela Gel to children or adolescents under 16 years of age.
If you want to look after your lips, in all seasons, discover our range of affordable lip care products today! Keep lips looking healthy, soft and free from irritation.