Mental Wellbeing during a Socially Distanced Christmas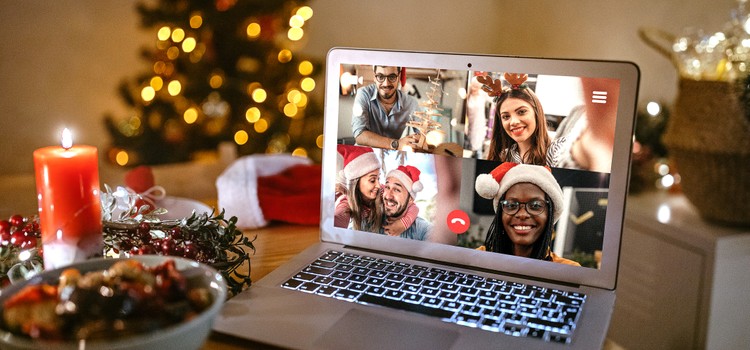 Published: 10th December, 2020 in: Health News
During the difficult times Covid-19 has presented, mental health and wellbeing have been affected across the world. With lockdown currently in place, social interactions have been restricted and more time is being spent indoors, resulting in many people struggling to maintain good mental wellbeing. This article explores the various findings from leading charities and organisations, on the impact of coronavirus on mental wellbeing, as well as offering advice on how to cope with restrictions during the festive Christmas season.
Current mental health statistics in relation to Coronavirus
Mental Health Foundation is a charity acting to create change in the treatment and awareness of mental health through research. According to their survey investigating loneliness during coronavirus in April, 1 in 4 UK-based adults said they had felt lonely in the past fortnight. Before lockdown, only 1 in 10 said they felt lonely. Young people aged 18-24 were most likely to experience loneliness since the lockdown began. Before the pandemic, 1 in 6 said they felt lonely, and since, it has been reported that young people are 3 times more likely to experience loneliness.
Leading mental health charity, Mind, has also released a document outlining the effects that Covid-19 has had on people's mental health. Following their findings, they say that "Prioritising mental health has never been more critical than it is now. New mental health problems have developed as a result of the pandemic, and existing mental health problems have gotten worse."
What does this research mean?
The findings of the above research and related studies have wider implications. They show how coronavirus and subsequent restrictions have had an impact on the mental wellbeing of many across the UK. It means that it is more important than ever to make sure everyone has access to support and assistance if they are struggling during these unusual times. Discover our tips to help look after you, and loved ones, mental wellbeing along with how to get help if you wish to.
What is going to happen this Christmas?
The Government announced on the 24th November that from the 23rd - 27th December, up to 3 households will be allowed to mix to form a Christmas bubble. However, Boris Johnson told people to use "personal judgement" on whether to visit elderly relatives.
Travel to and from households must take place from 23rd - 27th also. People will not be able to get together with others from more than two other households, and once a bubble is formed, it must not be changed or be extended further. Households will be allowed to stay at another's house, but not visit any hospitality venue.
On the 23rd November, Boris Johnson also told the House of Commons that the three-tiered regional measures will return from 2nd December, but he added that each tier will be toughened. This is expected to continue until the springtime at least. The BBC reported that the regions will not find out which tier they are in until Thursday 26th November.
The decision will be based on a number of factors, including each area's case numbers, the R number, and the pressure on the NHS.
The uncertainty surrounding restrictions can add to the mental strain placed on people. It is therefore essential to practice good self care in order to look after your mental wellbeing over the winter period.
How to decide on who to visit this Christmas
The government published a new page about forming a Christmas bubble, which you can read here. It can be difficult to decide on who to visit this Christmas, so using your judgement is very important.
Doctor Scally, a member of the Independent Sage, which published a report with practical suggestions for a safe Christmas, said the most important thing to reduce the risk of the coronavirus spreading is ventilating the home.
"If you are meeting indoors, you need to make sure there is good airflow. It's not just opening one window, it's two either at the end of the house or one on the top and bottom of the house, and keeping doors open.
"You don't need a gale, just movement of air so you're not getting stale air."
"It's an old fashioned idea to prevent infection, but it's very good."
Of course, Boris Johnson also advised to use judgement when thinking of visiting elderly or vulnerable relatives.
Government tips on how to look after your mental wellbeing
It helps to know how to handle your mental health during what is an unprecedented time. After all, this is something no one has experienced before. We need to make sure we seek the appropriate support and guidance to take care of ourselves and loved ones.
The government has issued some guidance for the public on mental health and wellbeing. It goes through the challenges that you may be facing currently, as well as ways to help your mental wellbeing.
General tips include thinking about your daily routine and how you can adopt a new, positive routine. For example, taking part in useful activities such as cleaning or cooking, and also engaging in meaningful activities, such as exercise and talking to friends.
The government also urges you to talk to others about how you are feeling. Talking and sharing your worries can help to relieve stress and worry. If you are in need of someone to talk to, there is a list of organisations and numbers at the bottom of the article.
Stress Management Tips
Change can be stressful for many, and with current pressures regarding socialising, work and health, it is not surprising if you are finding it harder to manage stress. Each person has experienced new stressors in their lives in different ways. Therefore it is important to equip yourself with stress management tips to stay calm and positive during this time.
The NHS has a list of stress busters. It is recommended that you should:
Be active - Exercise won't make your stress disappear, but it can reduce some of the emotional intensity that you're feeling, clearing your thoughts and letting you deal with your problems more calmly
Take control - There's a solution to any problem. "If you remain passive, thinking, 'I can't do anything about my problem', your stress will get worse," says Professor Cooper. Although it may feel like you don't have control over the situation currently, there are still things you can do to take control of your own life. For example, you can control your diet - eating healthy will make you feel better. You can control your hobbies, e.g. going out for a run or listening to music, which can help you relax. "That feeling of loss of control is one of the main causes of stress and lack of wellbeing." The act of taking control is in itself empowering, and it's a crucial part of finding a solution that satisfies you and not someone else.
Challenge yourself - Setting yourself goals and challenges, whether at work or outside, such as learning a new language or a new sport, helps build confidence. This will help you deal with stress. "By continuing to learn, you become more emotionally resilient as a person," says Professor Cooper. "It arms you with knowledge and makes you want to do things rather than be passive, such as watching TV all the time." Also, with the new year around the corner, setting goals for the future is important and will help take your mind away from the present.
Professor Cooper says evidence shows that people who help others, through activities such as volunteering or community work, become more resilient. "Helping people who are often in situations worse than yours will help you put your problems into perspective," says Professor Cooper. "The more you give, the more resilient and happy you feel." If you have some spare time, you could volunteer for some charities in need of help, e.g. food banks are very important at the moment and need people to help. If you don't have time to volunteer, try to do someone a small favour every day.
All of these tips can help you to adapt to restrictions during the Covid-19 pandemic, and protect your mental wellbeing during a time when everything can seem overwhelming. For people feeling lonely and wanting to speak to someone, Samaritans offers a free 24 hour helpline where you can talk to someone about however you are feeling.
If you are finding it difficult to cope with current circumstances, you are encouraged to always talk to your GP as they can provide tailored support and services to you. It is important that if you are showing symptoms of mental health conditions to seek medical advice from your GP, they are always happy to help and will offer you further support suitable for your specific needs.
For advice regarding the Covid-19 pandemic, please visit the NHS website.
Please note that the contents of this article were accurate to the best of our knowledge at the time of writing (November 2020). Covid-19 restrictions and government/NHS advice are changing frequently, therefore you should check with the government website for current procedures, data and advice relating to Coronavirus/Covid-19.