Spring Bank Holiday and Platinum Jubilee Online Customer Service Opening Times:
Thursday 2nd June: 9am - 12noon
Friday 3rd June: Closed
Oilatum Soap: Uses, Benefits and More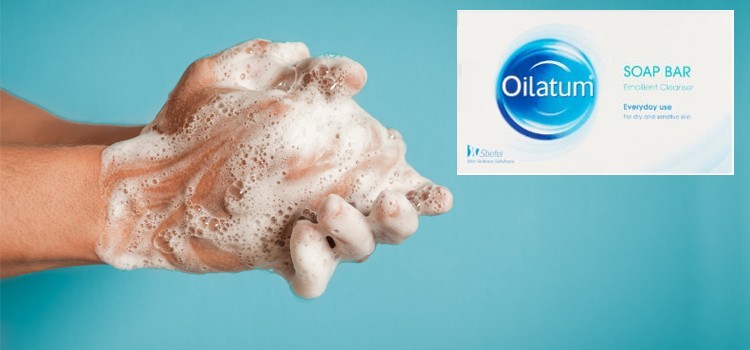 Published: 1st March, 2019 in: Health Advice
If you suffer from dry skin, it can be incredibly difficult to find a product that brings you relief. It's a condition which can be extremely uncomfortable, so finding something that will alleviate your symptoms is important. That's why Oilatum Soap has been making waves in the healthcare industry.
Oilatum Soap is a product designed for dry and sensitive skin that is suitable for everyday use. It has been crafted by an expert team of scientists utilising the latest developments in dermatology to create a product which is at the forefront of skin science.
This article will explain a little bit more about Oilatum soap, how to use it and the benefits it brings.
What is Oilatum Soap?
Oilatum Soap is an emollient cleanser which is suitable for daily cleansing. It replaces the skin's oily protective layer, which is washed away by ordinary soaps, and is gentle enough for everyday use.
When the barrier of your skin is vulnerable it can quickly lose moisture, and external irritants or environmental factors can penetrate the skin's protective outer layers more easily; this can upset the natural balance of the skin and disrupt the renewal of your skin cells, which can result in itchy, irritated and dry skin.
The Oilatum team are dedicated to understanding the cycle of dry skin and have crafted Oilatum Soap to break this cycle and to soothe your dry skin and prevent any further discomfort.
Oilatum Soap gently cleanses the skin without drying you out, while moisturising and protecting you too. Its gentle properties make it a great soap option for children and babies too.
How to use Oilatum Soap
Incorporating Oilatum Soap into your routine is incredibly simple; use a little warm water and massage the soap bar into the skin to create a luxurious lather, before rinsing off and patting dry.
It's important to note that while Oilatum Soap is suitable for children and babies, you should keep the product out of reach of children. You should also store your Oilatum products at room temperature, and this product is for external use only.
The benefits of Oilatum Soap
The primary benefits of Oilatum Soap are that it can help relieve the symptoms for those that suffer from dry skin or eczema.
The scientists behind the product actually work with parents of babies that have dry skin and eczema throughout the development process of the products, to ensure that the products are tailored to meet the needs of their consumers. This is how you know you are getting a product that is specifically designed to help alleviate the symptoms of eczema and dry skin.
The parent consultancy period ensures that the needs of consumers are heard, while also ensuring the product is definitely suitable for both adults and children.
If you suffer from dry skin or eczema, or indeed your child does, then why not try Oilatum Soap from Weldricks Pharmacy for just £3.79? This product is so popular that we have had to limit it to 10 per order, though if you wish to purchase more you can simply contact the pharmacy team or customer services team before you place your order.