Quick Veggie and Rice Burrito - with Orlos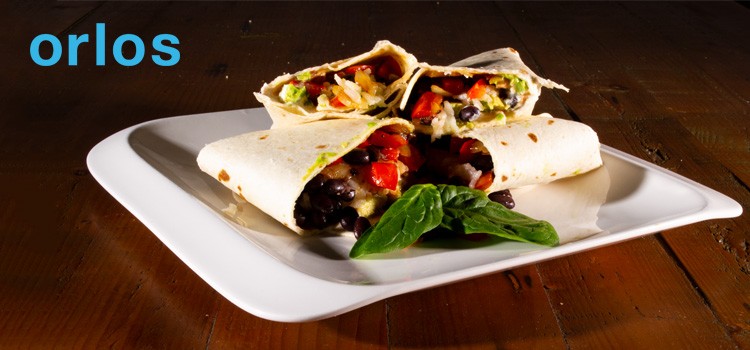 Published: 18th January, 2019 in: Health Advice Weight Loss
These tasty looking burritos are from Gimmiedelicious.com, and the cooking done by the people over at Orlos shows just how easy and delicious they can be! Packed full of goodness these burritos just show that dieting doesn't mean you have to eat plain and boring food. If you are trying a low-fat diet and using Orlos to help you on your weight-loss journey give this recipe a try.
Ingredients
1/2 Onion (sliced)
1/2 Bell Pepper (sliced) - whichever colour you prefer
1 Teaspoon of Olive Oil
2 Large Flour Tortillas
1 Ripe Avocado (sliced)
1/2 Cup of Pinto or Black Beans
1/4 Cup of Low-Fat Sourcream
2 Tablespoons of Mexican Salsa
Salt and Pepper to Taste
1 Cup of Flavoured Rice (this recipe recommends coriander lime)
Method
Begin by cooking the rice. You can use any type of rice you prefer, or try the cilantro lime rice recipe from Gimmiedelicious.com.
While the rice is cooking, heat a small pan to high heat. Add the olive oil, onion, and bell pepper. Cook these on high heat for 3-4 minutes, or until the veggies begin to brown on the edges.
Turn off the heat and set the pan aside.
Lay a flour tortilla on a flat surface and top it with half of your cooked veggies, 1/2 of the avocado, 1/2 of the beans, 2 tablespoons of sour cream, 1 tablespoon of salsa, and a sprinkle of salt and pepper.
Fold in the sides of the tortilla over the filling and roll up to completely enclose. Wrap this in in foil and cut in half.
Repeat the process with the remaining ingredients.
Serve warm and enjoy!
Yummy and easy to make! Perfect for anyone trying to lose weight. Keep a lookout on our site for more tasty recipes to come, and if you make these why not send us a picture on Facebook or Twitter? Good luck with your weight-loss journey and keep it up!