Spring Bank Holiday and Platinum Jubilee Online Customer Service Opening Times:
Thursday 2nd June: 9am - 12noon
Friday 3rd June: Closed
Sunseal Product Guide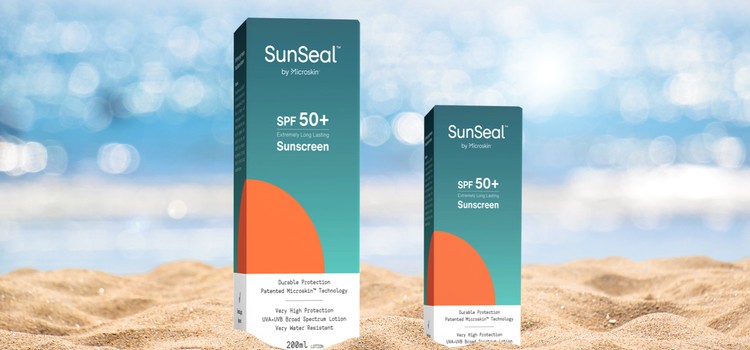 Published: 17th September, 2021 in: Sun Care
SunSeal is the ultimate sun protection product that is durable and effective. With its microskin technology, SunSeal makes it so you can get out and about in the sun, and not have to worry so much about skin damage from the sun.
Whether it's spending a sunny day by the sea, playing sports, or going to a family, sun protection while enjoying time outside is hugely important.
How does Sunseal work?

SunSeal uses Microskin technology, which forms a thin film called 'simulated skin'. This is combined with organic UVA (skin aging) and UVB (sunburn) blockers which protect skin from harmful rays for longer periods of time.
SunSeal is unlike other sunscreens in that it is not absorbed into the skin. Instead, it binds to the skin cells on the surface of the skin and creates a protective micro barrier. This seals your natural skin from potential damage that the sun's harmful rays might cause. Sunseal acts like natural skin, but with SPF30 or SPF50+ protection.
What are the benefits of Sunseal?

SunSeal is flexible, breathable, completely waterproof, and it allows you to perspire like you normally would. As well as this, it doesn't even need to be reapplied after you have been in the water. With its organic UVA and UVB blockers, it effectively protects your skin from cellular damage caused by the sun and combats premature ageing.
It comes in an easy to use spray on liquid, which is transparent and non-greasy in its texture. Sunseal appears completely invisible on the skin, not leaving any residue. Once applied, you can forget it's there.
SunSeal products will also not rub off onto clothes, linens, furnishings or bedding and is safe and suitable for men, women and children.
Microskin Technology
When applied to the skin, SunSeal rapidly evaporates leaving a waterproof film on the skin's surface that looks and feels like your natural skin.
During the evaporation phase, the cellulosic and oil components migrate towards the skin's surface and partially enter the Corneum layer. This assists in binding the dried film to the skin's surface and provides considerable elasticity to the film.
The concentrations of ingredients in the Microskin film are carefully balanced to provide sufficient penetration only to hold the film firmly onto the skin and not allow high penetration into the Corneum layer. This balancing of components is carefully managed to provide elasticity of the dried film to produce long-lasting properties.
When does SunSeal come in handy?

SunSeal is perfect for those family holidays and the height of summer hikes when you need ultimate protection from UV rays. However, you can still get burned even on a cloudy day in the UK, so you should still follow safety precautions.
Sun Safety Advice

Sunburn increases your risk of skin cancer. Most people think that it only happens abroad when it's hot, but you can burn in the UK, even when it's cloudy.
You should aim to strike a balance between protecting yourself from the sun and getting enough vitamin D from sunlight. Our body creates vitamin D from direct sunlight on our skin when we're outdoors. From about late March to the end of September, most people should be able to get all the vitamin D they need from sunlight.
We also get some vitamin D from a small number of foods, including oily fish such as salmon, mackerel, herring and sardines, as well as red meat and eggs.
​​Most people can make enough vitamin D from being out in the sun daily for short periods with their forearms, hands or lower legs uncovered and without sunscreen from late March to the end of September, especially from 11am to 3pm.
But you should be careful not to burn in the sun, so take care to cover up or protect your skin with sunscreen before your skin starts to turn red or burn. For people wanting to sun tan, they should be aware that there is no safe way to tan as you are exposing your skin to strong sunlight for significant amounts of time. We recommend using sunscreen whenever you are planning to be out in the sun. Where you are looking for a tan, check out self-tan products instead.
You shouldn't rely on sunscreen alone to protect yourself from the sun. As well as this, wear suitable clothing and spend time in the shade when the sun's at its hottest.
What Sunseal products are available at Weldricks?

At Weldricks, we have Sunseal Sunscreen SPF50+ lotion sprays available in both 50ml, 100ml, and 200ml. Browse our range and read more about SunSeal on our website.
How long does SunSeal last?

The Microskin technology used in SunSeal makes it extremely durable. Microskin is clinically proven to remain 97% effective on the skin after 72 hours.
Sources
https://www.nhs.uk/live-well/healthy-body/sunscreen-and-sun-safety/
https://www.nhs.uk/live-well/healthy-body/how-to-get-vitamin-d-from-sunlight/