Wisdom Mint Fluoride Dental Sticks Pack of 100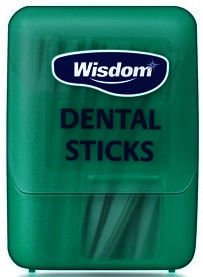 Wisdom Mint Fluoride Dental Sticks Pack of 100
Directions
Bridges, Braces, Implants and Wide Spaces:
Thread the floss between teeth and appliance or through wide spaces. Use a soft back-and-forth motion to remove plaque. Gently slide the floss UNDER THE GUMLINE. Use an up-and-down motion to remove plaque.
Regular Teeth:
Gently slide floss between teeth and UNDER THE GUMLINE. Clean under the gumline as directed above.
Use a fresh section of floss for every tooth.
Description
Wisdom Fresh Effects Extra Minty Dental Sticks with their triangular profile have been designed to effectively clean between the teeth and remove food debris after meals or whenever you need them, whilst the intense mint flavour leaves your mouth with a clean and fresh feeling after use.
They also contain fluoride to help strengthen teeth against decay.
Regular use helps fight plaque, gum disease and tooth decay. Use after every meal to help keep your teeth and gums healthy.
Warnings
Do not snap the floss down into the gums.
Ingredients
There are no ingredients listed for this product.
You may also like