Spring Bank Holiday and Platinum Jubilee Online Customer Service Opening Times:
Thursday 2nd June: 9am - 12noon
Friday 3rd June: Closed
What is Difflam Spray and How Does it Work?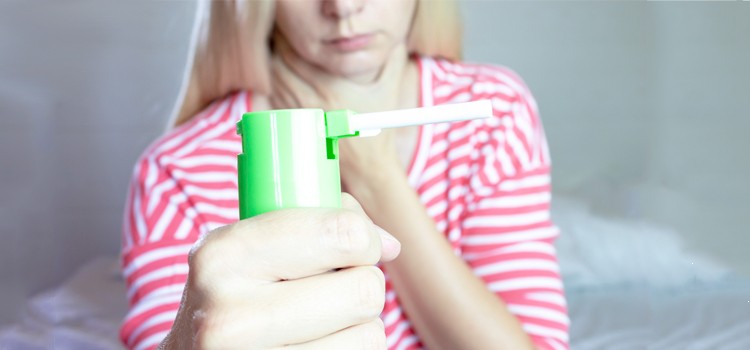 Published: 9th May, 2019 in: Health Advice
Difflam Spray is a metered dose pump spray, designed to treat painful and sore throat and mouth conditions. Difflam Spray is a locally acting analgesic and anti-inflammatory mouth and throat treatment containing the active ingredient, Benzydamine, which acts locally to stop the pain and inflammation.
The spray can be purchased online through the likes of Weldricks Pharmacy, and this article seeks to answer some of the frequently asked questions surrounding the product.
How to use Difflam Spray
Difflam Spray is designed to help to soothe the symptoms of a painful or sore mouth and throat. The design of the spray bottle ensures that the powerful active ingredient is delivered straight to the point of pain within your mouth or throat, to give you relief in a fast and targeted manner.
To effectively use Difflam Spray simply spray the targeted spray nozzle towards the problem area. Adults use 4-8 puffs every 2-3 hours, and children aged 6-12 use 4 puffs every 2-3 hours. For children under the age of 6, one puff is to be administered per 4kg body weight, up to a maximum of 4 puffs every 3 hours. The elderly can receive the same dosage as adults thanks to the small quantity of the drug administered.
What does Difflam Spray do?
Benzydamine Hydrochloride is the active ingredient in Difflam Spray and is designed to treat mild to moderate pain and inflammation in a particular area. It is most effective when applied directly to the specific area in your mouth or throat where you are feeling the pain, and will quickly soothe any pain and inflammation in this area.
What can Difflam Spray be used for?
The spray is designed to soothe and alleviate painful throat and mouth conditions such as mouth ulcers, sore throats and sore gums, pain and inflammation following dental surgery, and is particularly useful in traumatic conditions such as the inflammation of the throat (pharyngitis) following surgical removal of the tonsils, or the use of a tube passed through the nose into the stomach (naso-gastric tube).
Can you use Difflam Spray when pregnant?
It is advised that you don't use Difflam Spray while pregnant unless it is considered essential by your physician, and you have had specific approval to do so. It should also not be used when lactating unless your physician approves.
How long does Difflam Spray take to work?
Difflam throat and mouth spray is designed to provide relief for your pain incredibly quickly. By specifically spraying your the painful area with the spray nozzle you should feel your symptoms easing within a matter of days. Any soreness and inflammation symptoms should have reduced within a week. If there is no easing of the symptoms after a week you should consult your doctor or dentist.
Difflam Spray is readily available for you to purchase online with Weldricks Pharmacy, along with a host of other Difflam products all designed to help ease your painful throat. You can pick up the spray, an oral rinse, a throat rinse, or a cream too, all of which should help to soothe your pain and leave you feeling yourself again.