Nurofen 200mg Tablets 48 Tablets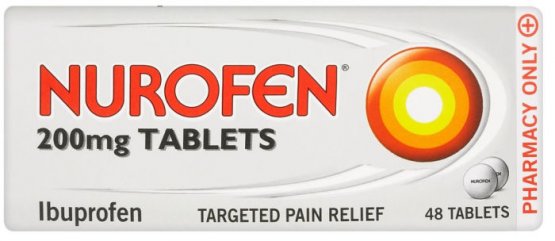 Nurofen 200mg Tablets 48 Tablets
£5.99 Save: £0.75 RRP: £6.74
This product is limited to 2 per order, if you wish to order more please contact the pharmacy team/customer services.
Delivery options for this product have been restricted. More details about the delivery options available will appear if you add this product to your basket.
This product is typically dispatched within 3-5 working days from date of order and is not suitable for our next day delivery service.
Brand: Nurofen
Code: 0078980
Weight: 175g (includes packaging)
Description
Nurofen Standard 200mg Tablets - For easing mild to moderate Pain.
Nurofen Tablets and Nurofen Caplets are for the relief of:
Headaches
Backache
Period pain
Dental pain
Neuralgia
Rheumatic pain
Muscular pain
Migraine
Cold and flu symptoms
Feverishness
Pain of non serious arthritic conditions.
Nurofen Tablets and Nurofen Caplets both contain ibuprofen which belongs to a group of medicines known as non-steroidal anti-inflammatory drugs (NSAIDs).
NSAIDs provide relief by changing the body's response to pain, swelling and high temperature.
Directions
How to take Nurofen Caplets:
Adults, the elderly and children 12 years and older should swallow 2 caplets with water, then if necessary take 1 or 2 tablets every 4 hours.
Do not exceed 6 caplets in 24 hours.
KEEP ALL MEDICINES OUT OF REACH AND SIGHT OF CHILDREN.
PLEASE READ ALL PRODUCT PACKAGING AND LABELS PRIOR TO USE.
Warnings
BEFORE YOU TAKE NUROFEN TABLETS OR NUROFEN CAPLETS:
Do Not take Nurofen Tablets or Nurofen Caplets if you:
have or have ever had a stomach ulcer, perforation or bleeding
are allergic to ibuprofen, to any of the ingredients, or to aspirin or other painkillers
are taking other NSAIDs pain killers, or aspirin with a daily dose above 75 mg
are in the last 3 months of pregnancy
are under 12 years of age.
Ask your doctor before taking Nurofen Tablets or Nurofen Caplets if:
you have asthma or have suffered from asthma
you have kidney, heart, or liver or bowel problems
you have Systemic Lupus Erythematosus (SLE) - a condition of the immune system affecting connective tissue resulting in joint pains, skin changes and disorder of other organs
you are taking any regular medication, especially:
- Aspirin at low dose (i.e. below 75 mg daily)
- Medicines for high blood pressure and water tablets (diuretics)
- Medicines for thinning the blood (anti-coagulants)
- Corticosteroids
- Methotrexate (an anti-cancer agent)
- Lithium [used to treat depression)
- Zidovudine (an anti-viral drug)
You are in the first 6 months of pregnancy or breast-feeding.
KEEP ALL MEDICINES OUT OF REACH AND SIGHT OF CHILDREN.
PLEASE READ ALL PRODUCT PACKAGING AND LABELS PRIOR TO USE.
Ingredients
Each tablet or caplet contains the active ingredient:
Ibuprofen 200 mg.
They also both contain:
Sucrose, Sodium Citrate, Talc, Croscarmellose Sodium, Stearic Acid, Titanium Dioxide, Silicon Dioxide, Acacia, Carmellose Sodium, Sodium Laurylsulphate, Macrogol, Black Ink, [Contains Shellac, Iron Oxide Black, Soya Lecithin, Simeticone).
You may also like