Spring Bank Holiday and Platinum Jubilee Online Customer Service Opening Times:
Thursday 2nd June: 9am - 12noon
Friday 3rd June: Closed
Improving Nutrition and Wellbeing Guide 2021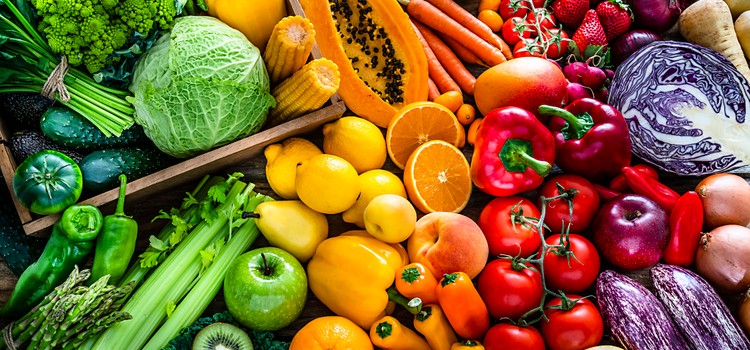 Published: 13th April, 2021 in: Health Health Advice
The NHS Eatwell Guide, states that to have a healthy, balanced diet, people should try to:
Eat at least 5 portions of a variety of fruit and vegetables every day
Base meals on higher fibre starchy foods like potatoes, bread, rice or pasta
Have some dairy or dairy alternatives (such as soya drinks)
Eat some beans, pulses, fish, eggs, meat and other protein
Choose unsaturated oils and spreads, and eat them in small amounts
Drink plenty of fluids (at least 6 to 8 glasses a day)
Despite these recommendations, most of us still do not eat enough fruit and vegetables, with fatty foods being more easily available and sometimes, cheaper. However, fruits and vegetables should make up over a third of the food we eat each day. There are often supermarket offers and buying in bulk can sometimes help save money. Everyone should aim to eat at least 5 portions of a variety of fruit and veg each day.
What counts as 5 portions of fruit and veg?
Eating 80g of fresh, canned or frozen fruit and vegetables only counts as 1 of your 5 a day. You should opt for tinned or canned fruit and vegetables in natural juice or water, with no added sugar or salt.
Eating 30g of dried fruit counts as 1 portion of your 5 a day. Dried fruit should be eaten at mealtimes, not as a between-meal snack, to reduce the risk of tooth decay.
Eating 80g of beans and pulses also only count once as part of your 5 a day, no matter how many you eat. This is because although they're a good source of fibre, they contain fewer nutrients than other fruits and vegetables.
As well as this, drinking 150ml of fruit and vegetable juices and smoothies can also count as one fruit. However, crushing fruit and vegetables into juice and smoothies releases the sugars they contain, so it is better to mostly eat solid fruit and veg. Juices and smoothies are also recommended to be consumed at mealtimes, not as a between-meal snack, to reduce risks of tooth decay.
Top 5 Healthy Eating Tips
1. Base your meals on high fibre starchy carbohydrates
Starchy carbohydrates should make up just over a third of the food you eat, this includes potatoes, bread, rice, pasta and cereals.
2. Eat more fish
Fish is a good source of protein and contains many vitamins and minerals. You should include oily fish in your diet, as it contains long-chain omega-3. which can help to prevent heart disease. Some examples of oily fish include salmon, trout, herring, sardines, pilchards and mackerel.
3. Cut down on saturated fat and sugar
You need some fat in your diet, but it's important to pay attention to the amount and type of fat you're eating, as there are 2 main types of fat (saturated and unsaturated). Too much saturated fat can increase the amount of cholesterol in the blood, which increases your risk of developing heart disease.
Regularly consuming foods and drinks high in sugar also increases your risk of obesity and tooth decay, so you should try to avoid these on most days.
4. Eat less salt: no more than 6g a day for adults
Eating too much salt can raise your blood pressure. People with high blood pressure are more likely to develop heart disease or have a stroke.
5. Do not skip breakfast
Some people skip breakfast because they think it'll help them lose weight, but a healthy breakfast high in fibre and low in fat, sugar and salt can form part of a balanced diet, and can help you get the nutrients you need for good health.
Products that aid in good nutrition
As well as maintaining a healthy and balanced diet, there are also products that can aid in keeping up good nutrition. For example, taking vitamins supplements to help top up a good diet, and nutritional drinks to help get extra minerals.
1. Numark Cod Liver Oil with Vitamins A & D
Numark Cod Liver Oil with Vitamins A & D Capsules that used to help maintain strong bones and mobility. Cod liver oil contains vitamin A, which is a vital nutrient to help immune system function, cell growth, eye health, and reproduction. It is also rich in omega-3 fatty acids, which decrease blood clot formation and reduce bodily inflammation.
2. Valupak Multivitamin One-a-day Tablets
Vitamins are essential to the functioning of the body, providing the building blocks for enzymes and hormones to help us stay healthy. Valupak multivitamins contain Vitamins A, C and D, to help support immune system function, and Vitamin E, which contributes to the protection of cells from oxidation. Valupak also contains vitamin B, which helps to release energy, and Vitamin B12, which helps reduce tiredness and fatigue.
3. Numark Vitamin C Effervescent
It is a little known fact that the body does not store vitamin C, so it is important to get a regular daily intake. Numark Vitamin C Effervescent has a delicious orange flavour, and is an excellent way to supplement your daily intake of this essential vitamin. Vitamin C is key in maintaining healthy skin, blood vessels, bones and cartilage.
Healthaid B12 tablets contain Vitamin B12, which is utilised in the formation of healthy red blood cells, maintenance of the nervous system and proper metabolism of fats, carbohydrates and proteins. It also helps maintain proper growth and appetite in children.
Vitamin B12 supplementation is ideal for those who want to increase their energy level, vegans and vegetarians who may be lacking B12 from their diet, those who need mental clarity, and those who have hereditary heart conditions.
5. Numark Magnesium & Vitamin B6 Tablets
Numark Magnesium & Vitamin B6 Tablets provide support before and during a woman's monthly cycle. Magnesium is a mineral that helps our bodies turn the food we eat into energy, and makes sure the parathyroid glands, which produce hormones important in bone health, work normally.
6. Pregnacare Before Conception Tablets
Pregnacare Conception vitamin and mineral supplements provide advanced nutritional support for men and women trying for a baby. Including zinc, which contributes to normal fertility and reproduction, and vitamin D, which has a role in the process of cell division. Also, it includes the exact levels of folic acid (400mcg), recommended by the UK Department of Health.
BetterYou Magnesium Flakes are ideal for replenishing the body with the essential mineral, promoting overall well-being, aiding skin health and relaxing muscles, and effectively relieving tension and stiffness. When added to a bath, the BetterYou Magnesium Flakes are absorbed into the highly porous epidermis and through to the blood vessels and muscles beneath. This bypasses the digestive system, where many nutrients are not absorbed.
8. HealthAid A to Z Multivitamin and Minerals Tablets
Healthaid A-Z Multivitamin Tablets provide a balanced vitamin and mineral supplement ideal for the whole family, athletes, people doing strenuous exercise and energetic work, or for anyone looking to safeguard dietary intake of these important nutrients. They are also beneficial to women during their monthly cycles or when pregnant and for nursing mothers.
For more information on vitamin and mineral supplements, visit our pharmacies. For any other queries, please do not hesitate to get in touch.

Sources
https://www.nhs.uk/live-well/eat-well/
https://www.nhs.uk/live-well/eat-well/the-eatwell-guide/
https://www.weldricks.co.uk/healthy-living-and-conditions
https://www.nhs.uk/live-well/eat-well/5-a-day-what-counts/
https://www.nhs.uk/conditions/vitamins-and-minerals/others/
https://www.nhs.uk/conditions/vitamins-and-minerals/vitamin-c/
https://www.nhs.uk/live-well/eat-well/eight-tips-for-healthy-eating/