Keep Your Loved Ones Safe! CPR Guardian II Smartwatch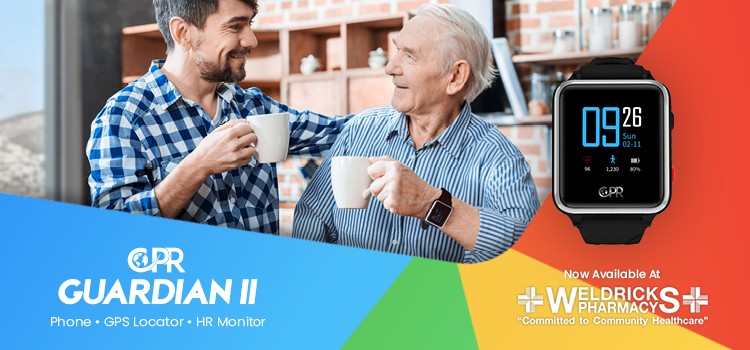 Published: 4th June, 2019 in: Health Health Advice
Think back to when you were a child; wouldn't your parents have done anything in their power to keep you safe, regardless of how much you objected? As difficult as it is to accept that the roles have been reversed, we all have a social responsibility to ensure our vulnerable loved ones are always safe and secure. For caregivers, one of the biggest concerns is the possibility of an accident occurring when they are not around to watch their loved ones. Trips, slips, and falls can lead to more serious health problems, and for those suffering from other problems which may lead to them easily wandering off or getting lost, it can be hard to truly have the independence they'll want and need.
For those wanting to keep an eye on their loved ones while also allowing them the freedom and independence they desire, try the CPR Guardian II Smartwatch. This smartwatch is purpose-built to help give those who may be vulnerable, and their loved ones, peace of mind. So, what does the CPR Guardian II have to offer?
Just like a phone (but easier)!
Keep in touch with your loved ones via phone calls and voice messages, right from your watch. Add contacts to the watch so that, even in the event of a fall, making a phone call is simple and safe.
Emergency Assist
Make SOS calls by simply pressing and holding the red button on the watch for 3 seconds. When this is done the watch will begin to call the number that you have pre-set as the SOS contact until the call is answered.
GPS
The CPR Guardian II allows you to locate the wearer through the connecting app, which can give you a little peace of mind. You can also set zones on the watch, such as 'home' or 'town' and you will get alerts to your app when the wearer leaves or enters any of the pre-assigned zones.
Health
Although the CPR Guardian is the perfect gadget to help in an emergency, this smartwatch is great for the wearer's day-to-day life too. this watch has a pedometer which can allow the wearer to check their steps taken, their distance walked, and the calories they have burned doing so. Keeping active is vital and being able to track your progress is a great motivator to keep going. The watch also has a heart rate monitor which will alert you if the wearer's heartbeat drops below 30bpm
The CPR Guardian can help to give your loved ones the independence they need with the ability to alert you if something happens. Use the watch to simply keep in touch with your friends and family, or allow them to track their health while also knowing that help is close at hand if the need ever arises. Check out the CPR Guardian II Smartwatch HERE and get yours today!