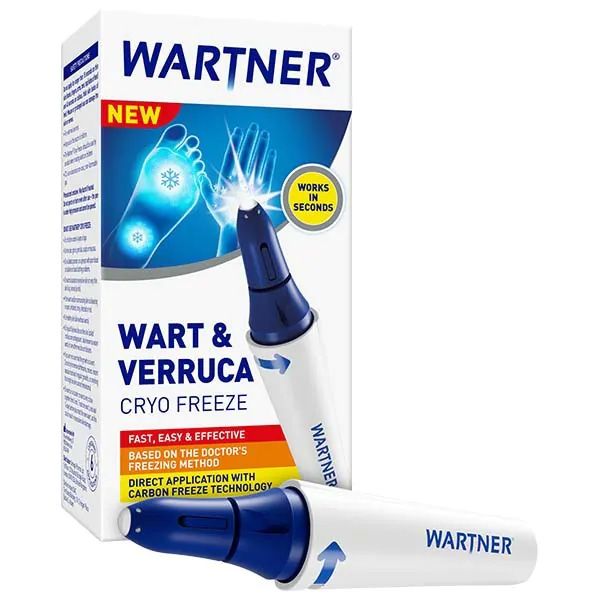 Wartner Cryo Freeze
This product is typically dispatched within 3-5 working days from date of order and is not suitable for our next day delivery service.
Description

Wartner® Cryo Freeze is based on the same freezing technology used by the doctor. It offers an effective and fast removal of warts and verrucas by freezing it in a direct & precise way, causing the wart or verruca to disappear within 10 to 14 days usually after one application by which time healthy new skin will have formed underneath. No self treatment is more effective & rapid. If a wart, verruca, or part of it should remain two weeks after treatment, you may safely treat it a 2nd or 3rd time. If you want to remove a wart/verruca that is bigger than 7.5mm, please see your doctor.
Directions

Read the entire leaflet before using Wartner Cryo Freeze.

Do not remove the transparent cap.

Rotate the white part of the pen one full turn in the direction of arrow until you hear a loud click.

Turn firmly as force is needed to break the inner seal.

If this instruction is not followed, the pen won't be activated and will not be suitable for use.

This step only needs to be followed for first time use only.

Place the pen on flat solid surface (e.g. table) with the transparent cap facing down.

Hold with one hand the transparent cap and with the other hand, push the white part of the pen firmly down for 7 seconds.

Use a clock as a guide. Try to respect the 7 seconds activation time as precise as possible. You can see a white ice tablet being formed.

Use a clock as a guide.

Remove the transparent cap.

If a white ice tablet is formed at the tip of the pen. Use the pen immediately by proceeding with step 4: treat.

If you do not see a white ice tablet, if the tablet fell off or is stuck in the transparent cap, repeat Step 2: Activate

Press the ice tablet firmly against the wart.

15 sec on thin skin (hands, fingers, arms, toes, top/sides of feet)

40 sec on callous, thick skin (soles of feet)

Use a clock as guide.

Misuse or longer application on the wart can result in skin or nerve damage.
Warnings

Do not apply for longer than 15 seconds on thin skin (hands, fingers, arms, toes, top/sides of feet) and 40 seconds on callous, thick skin (soles of feet). Misuse or prolonged use can damage the skin or nerves. For external use only. Keep out of the reach of children. The Wartner® Cryo Freeze should be used by an adult when treating warts on children. CO2, is an odourless non­toxic, non­flammable gas. Pressurized container. May burst if heated. Do not pierce or burn even after use ­ the pen is under high pressure and cannot be opened.

DO NOT USE WARTNER CRYO FREEZE:

On children under 4 years of age.
On the face, groin, genitals, scalp or mucosa.
On a diabetic person, or a person with poor blood circulation or blood clotting problems.
On warts located on sensitive skin or very thin skin (e.g. around joints).
If the wart and/or surrounding skin is bleeding or open, irritated, itchy, infected or red.
On healthy skin (skin without warts]
On liquid filled vesicles on the skin (called 'molluscum contagiosum', also known as water warts) or any other vesicles or blisters.
If you are not sure that the growth is a wart. Do not try to remove birthmarks, moles, recent vascularized and irregular growths, or anything that might be skin cancer (melanoma).
On warts in a cluster or warts very close together [min 3 cm). Treat one wart, and wait 14 days before you treat the next wart, as this could result in excessive skin damage.
Ingredients

Pen including 1 CO2 Cartridge (14ml ℮)
You may also like